Listen To Your Mother TWIN CITIES 2013
Photography credit -- gratefully -- to Jennifer Liv Photography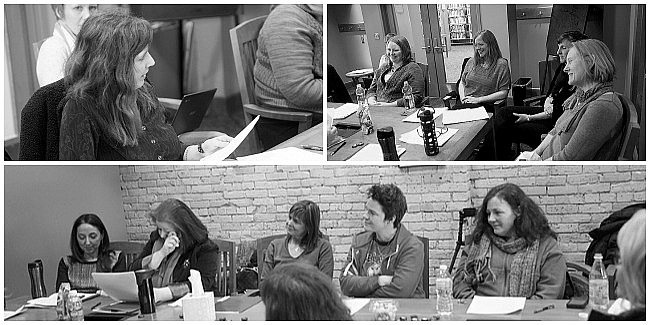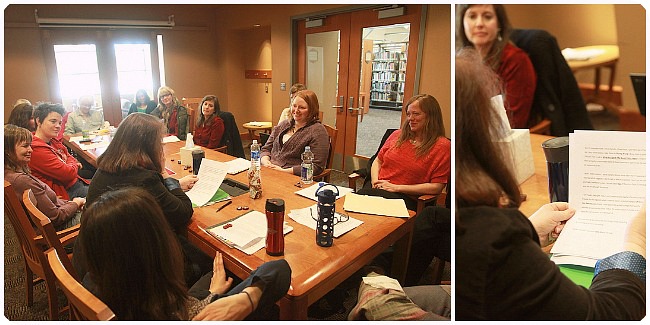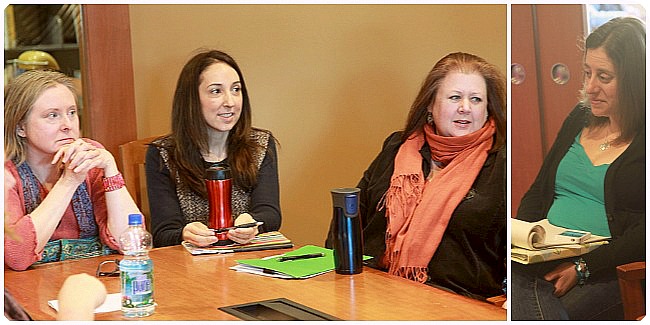 Listen To Your Mother Twin Cities
2013 Cast
Carol Allis
Carol Allis has been writing poetry since her father gave her a manual Underwood typewriter when she was seven. She lives in Minnetonka, Minnesota, with two cats and a herd of deranged squirrels, close to beloved family. She used to write news for various governmental entities, paring down governmentalize into words ordinary people can understand. Now she is retired and devoting more time to poetry. She wants to help bring back the loving link that used to exist between ordinary people and poetry.
Watch Carol read, "Mother's Hippocratic Oath" >>
Jeanne Bain
Jeanne Bain has an affinity for writing end-of-life stories, producing community radio, and singing Broadway show tunes out of key, while doing dishes. Her second home is Pathways Minneapolis, where she facilitates Writing From The Body, a creative process workshop, and helps lead the Courageous Writers' group. When she isn't hanging out with grown-ups who write, she actively avoids her own teenager, hides from her energetic eight-year-old-son, and hangs out with other people's children at the Loft Literary Center. There she teaches both Writing The Dark and Fan Fiction, where she often dresses like evil Alice.
Jennifer Ball-Tufford
Jennifer Ball-Tufford writes about divorce and its aftermath, parenting teens and trashy television on her blog, The Happy Hausfrau and for Huffington Post-Divorce. She is often spotted at Costco and other suburban hot spots sporting yoga pants, a wine-mustache and Michelle Duggar hair. When she's not preparing for the zombie apocalypse she can be found teaching preschoolers how to build awesome block forts. Jenny lives in Golden Valley, MN with her four amazing teenagers and Walter, the Wonder Dog.
Nina Badzin
Nina Badzin is a freelance writer and blogger living in Minneapolis with her husband and four children. Her short stories have appeared in a variety of literary magazines and she was nominated for a Pushcart Prize for one of them, Son. Nina's essays focusing on parenting, marriage, Judaism and more have been been featured at The Huffington Post, The Jewish Daily Forward, Kveller.com, Writer Unboxed, and numerous other sites. More than anything, however, Nina is known for her Twitter tips, which will not win her a Pulitzer any time soon. She's extraordinary honored to participate in Listen to Your Mother.
Watch Nina read, "The Blessing of a Botched Piano Recital" >>
Elisa Bernick
Elisa Bernick is an award-winning writer and journalist. She has worked as a reporter and producer for MPR, PBS, WCCO-TV, and TPT. Her travel and parenting articles have been published by Parents Magazine, Minnesota Parent, and Transitions Abroad. She is the author of The Family Sabbatical Handbook: The Budget Guide to Living Abroad With Your Family, Cyberos, a romantic thriller, and she is currently finishing her second novel, No Hope, MN. Elisa is an Associate Editor for The Family Handyman, a national DIY home improvement magazine. She is an avid gardener and lives with her husband and two children in St. Paul, Minnesota.
Haddayr Copley-Woods
Haddayr Copley-Woods is a radio commentator, essayist, and fiction writer with pieces in places such as Minnesota Public Radio, the Minnesota Women's Press, Strange Horizons, and Best American Erotica. Her radio commentaries and essays cover disability issues, community, parenting, and politics. She works in nonprofit communications and lives with her family in Minneapolis. You can find her work at haddayr.com. Watch Haddayr read, "Shy" >>
Kate Hopper
Kate Hopper is the author of Use Your Words: A Writing Guide for Mothers and Ready for Air: A Journey Through Premature Motherhood (October, 2013). Kate holds an MFA in creative writing from the University of Minnesota and has been the recipient of a Fulbright Scholarship, a Minnesota State Arts Board Grant, and a Sustainable Arts Grant. She is an editor at Literary Mama, and teaches writing online and at The Loft Literary Center in Minneapolis, where she lives with her husband and two daughters. For more information about Kate's writing and classes, visit www.katehopper.com.
Colleen Kruse
Colleen Kruse is a longtime stand up comedian and writer. She has performed on Comedy Central, the Independent Film Channel, and MTV. Her work has appeared in the Minneapolis Star Tribune, the Minnesota Womens Press and the Rake Magazine. Colleen currently lives in Minneapolis with her sexy man friend and three cats.
Lorna Landvik
Lorna has written eight novels including Angry Housewives Eating Bon Bons, The View From Mt Joy, Oh My Stars and Patty Jane's House of Curl.
Lorna is a Minneapolis native that spent several years in California. After returning to Minneapolis years ago with her husband and first-born daughter, she had her second daughter and became a cast member of Dudley Riggs Brave New Workshop, a comedy and improvisational theater. She has written and starred in several plays, including On the Lam with Do and Re, The Smelt Princess and Glamour Queen. She continues to work as an actor and playwright, most currently in a one-woman, all-improvised show called, Party in the RecRoom. She is also a co-host of Reading Goddess Radio, an on-air book club which should soon have a radio home.
Watch Lorna read, "What A Bitch Taught Me About Mothering" >>
Melissa Nielsen
Melissa Nielsen is a lover of music, chocolate and sharpie markers. Melissa is busy. She and her wonderfully supportive husband enjoy raising 4 beautiful, energetic children: Brody (6), Charlotte (5), Elaine(2) and Adelaide (7 months). In her *spare* time, Melissa teaches music lessons and occasionally bakes cookies. As Melissa's 30th birthday approaches, she is clinging to her youth by spending time coloring, looking forward to summer vacation and attempting the splits. While she has been actively blogging for 5 years, Melissa doesn't consider herself a writer – just another mom with another story to tell. Thank you to everyone involved in this project for you support – the producers, the other amazing women on stage, my family and Sweet Caroline, without whom this story wouldn't be told.
Kelly O'Sullivan
Kelly O'Sullivan is a modern day (and hopelessly flawed) feminist, mother, and spouse. She is the author of the How I Learned to Wear a Dress blog–where feminism meets real life (and heels are totally optional). Kelly now writes about feminism, sexism, equality, parenting, and even politics and religion (yikes!) at www.kmosullivan.com. She is notoriously incapable of using commas correctly but, ironically, will fight to the death for her right to use the Oxford comma. Kelly enjoys the outdoors in a "waiter, I'll have my tea on the terrace" kind of way. She will cook, but only in emergencies.
Watch Kelly read, "I Wanted a Gloria Steinem Barbie but I Got a Baby Alive Instead" >>
Vikki Reich
VIKKI REICH writes about the intersection of contemporary lesbian life, parenthood and pop culture at her personal blog Up Popped A Fox. She is a contributing editor at lesbianfamily.com and contributor at aiminglow.com. She is currently finishing the Foreword Writing Apprenticeship in Creative Nonfiction at the Loft Literary Center in Minneapolis. When not writing, rapping with her kids or keeping the cat off the dining room table, she enjoys making movies with a cast of thousands…of marshmallow peeps. She lives in Minneapolis with her partner and two kids and spends every single winter complaining about the cold. Vikki is also part of our talented LTYM- Twin Cities cast.
Kate St. Vincent Vogl
Kate St. Vincent Vogl's book, Lost & Found: A Memoir of Mothers, has been featured on national ABC news and was named among the best of the year by The Akron Beacon Journal. She teaches at The Loft Literary Center, and she has spoken at national and international adoption conventions. Her short stories and essays have won honors in international competitions. An excerpt of a memoir-in-progress about her father is forthcoming in The Bellingham Review. Vogl was graduated from Cornell University cum laude and from the University of Michigan Law School. She lives in Plymouth, Minnesota with her family.
Sue Taylor
Sue Taylor lives with her small but unruly family in the beautiful Powderhorn Park neighborhood of South Minneapolis. Her work has appeared in the anthologies Blink: Sudden Fiction by Minnesota Writers , Blink Again: Sudden Fiction from the Upper Midwest and Inside Grief, and in Phantasmagoria, Rosebud, Alimentum, Moondance, and 3AM Magazine. She earned an MFA in Creative Writing with fiction emphasis from the University of Minnesota, Twin Cities in 2001, and teaches English and creative writing at Saint Paul Community and Technical College.